Summer Institute 2023 is Exploring Optimal Health for Adolescents.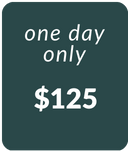 Summer Institute is one of the top adolescent and sexual health conferences in the nation—hundreds of professionals gather to learn new information, network, share ideas, and discuss successes and challenges. We're inviting all adolescent and sexual health professionals to join us in Charleston to explore how we can achieve optimal health for adolescents in our work.  
Join us as we learn from some of the leading voices in adolescent healthcare, addressing topics like preventing teen pregnancy, providing trauma-informed care, preventing STIs, recognizing unconscious biases, and adequately serving our LGBTQIA youth.
Questions? Contact summerinstitute@factforward.org. 
Important Dates: 
Call for Proposals 
Due January 31, 2023
Early Bird Registration Opens 
January 23, 2023
Early Bird Registration Closes 
April 3, 2023
General Registration Closes 
May 31, 2023
Conference 
June 14-16, 2023
Conference Location: 
Charleston Marriott, 170 Lockwood Drive, Charleston, SC, 29403
Parking at the hotel is $14-21 a day. Pre-pay for parking with your registration and get a 3-day pass for $25.
Check back soon for group booking info
Call for Proposals is OPEN!
Summer Institute 2023: Exploring Optimal Health for Adolescents is now accepting proposals! I'm contacting you because I think you'd be a great presenter. SI is a premier adolescent health conference that offers the opportunity to share your expertise with adolescent, sexual, and reproductive health professionals. Proposals are due January 31, 2023.