Foundations: Core Skills Training for Sex Ed
February 14, 2022 | 9:00am - 3:00pm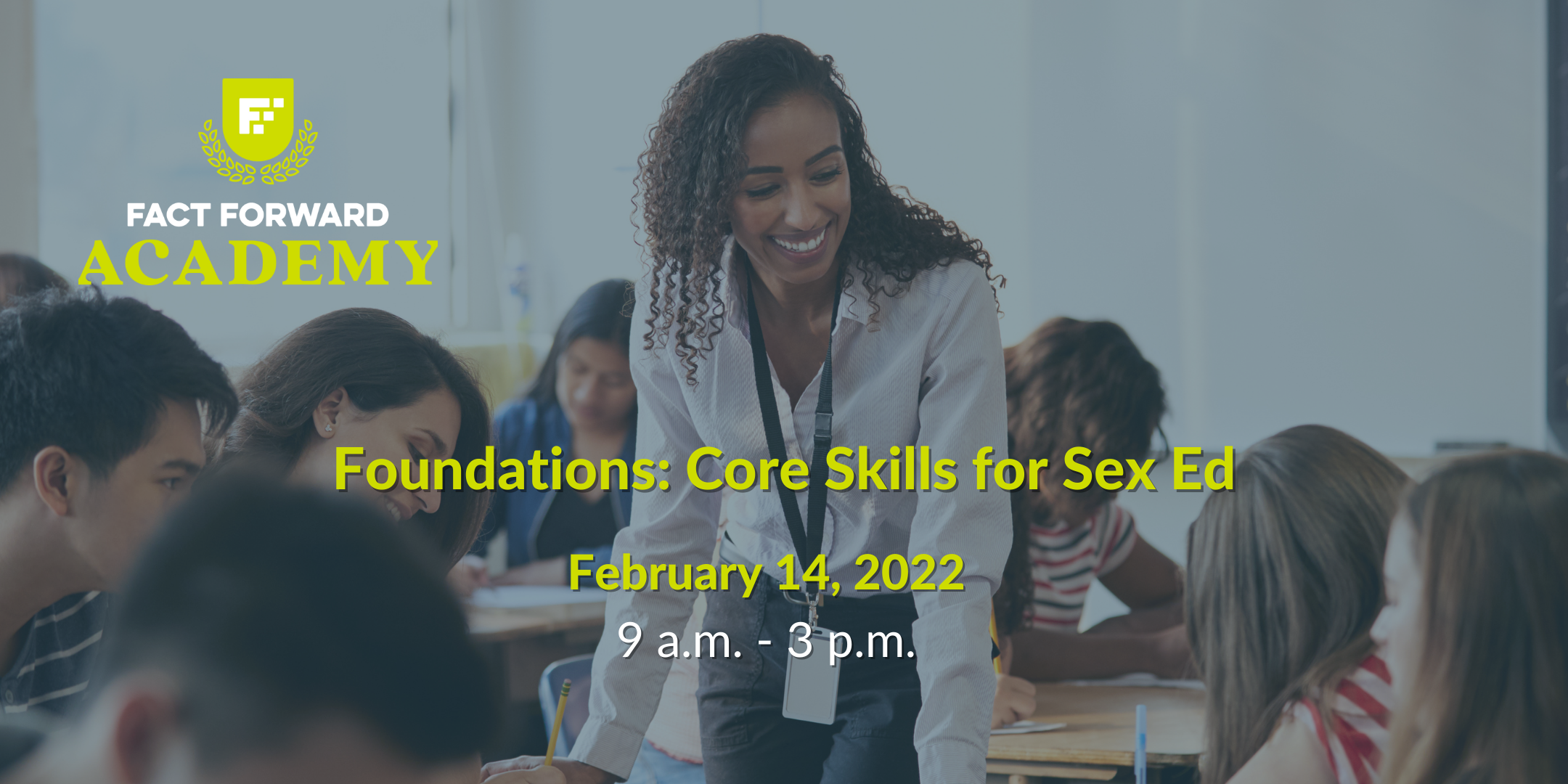 Are you new to sex education? Or has it been awhile since you've covered this content? Or would you just like to brush up our knowledge and skills? Join us for a series of learning sessions designed to help new and experienced health educators grow and refine their skills.
Foundations: Core Skills Training for Sex Ed Foundations: Core Skills Training for Sex Ed, is a national model for training teachers to implement high-quality sex education. It aims to ensure that all sex educators are equipped with the skills needed to effectively facilitate student learning, create safe and inclusive environments and provide opportunities for meaningful skill-building and values exploration, regardless of the specific curriculum they teach. It consists of one full day training covering climate setting, sex education policies, facilitation skills, values clarification, managing personal disclosure and answering difficult questions.
CEUs Available: 
Objectives: 
Describe three strategies that can be used to create a safe and supportive learning environment for teaching sexuality education.

 

Define comprehensive sex education.

 

Describe the experiential learning cycle and how it is used in the facilitation process.

 

List at least three personal values related to sex education topics on which students may hold differing viewpoints.

 

Describe the continuum model for addressing values-laden statements.

 

Articulate at least three universal or institutional values and explain how they can be used in responding to students' questions or comments.

 

Describe two possible advantages and two disadvantages to disclosing personal information when teaching sex education.

 

Demonstrate the ability to utilize the five-step process for answering challenging questions.

 

Identify the three steps to responding to harassing comments.

 

Create processing questions for each stage of the experiential learning cycle.

 
Target Audience: 
Anyone
Trainers:
 Denise Marcano & Susan Locke
Denise Marcano
Hailing from New York, Denise has been a resident of the Carolinas for well over a decade where she has been deeply involved in helping its residents on different social issues. Denise has been working in the HIV/AIDS, STD and teen pregnancy field for over 17 years in a prevention/treatment healthcare setting. Prior to her joining the Fact Forward staff she worked as a Community Health Educator for a local community organization providing prevention, education and testing services to York, Lancaster and Chester county concentrating on under served populations with a focus on Hispanic/Latino, women of color, LGBTQ, and adolescent populations for 9 years.
Susan Locke
Susan joined Fact Forward in August 2018 as the Training Associate and transitioned into the role of Partner Engagement Associate in October 2019 and then Partner Engagement Specialist in July 2021. In this role she is responsible for assisting in the planning, implementation and evaluation of all Fact Forward educational programming, technical assistance efforts and internal staff development opportunities. Locke earned a Bachelor of Arts in Women's and Gender Studies from the University of South Carolina. She was born and raised in NC, but now calls Columbia, SC home. Prior to joining Fact Forward full-time, Locke worked as an intern in early 2018. She is excited to continue her passion for reproductive justice through her work with Fact Forward.
Location: 
Online Webinar
Cost: 
$150
Registration Deadline:
February 10, 2022
Late registration must be approved by the training department (training@factforward.org) and is subject to a $35 late registration fee. 
---
If you are interested in additional information about this training and the possibility of having one in your area please contact our Training Department at training@factforward.org or 803-771-7700.
Cancellation Policy: Cancellations must be made no later than 72 hours before the date of the training. No-shows forfeit registration costs.
Inclement Weather Policy: Fact Forward follows the City of Columbia for weather closings. We monitor and adjust as necessary. We make all efforts to connect with registrants via email to advise of office closing and delayed starts. In case of cancellation of training due to weather, we will refund registration fees and make all efforts to reschedule in a timely manner.
See all events