Healing Approaches - Advancing Adolescent Reproductive Health with Trauma in Mind
November 18, 2020 | 1:00pm - 4:00pm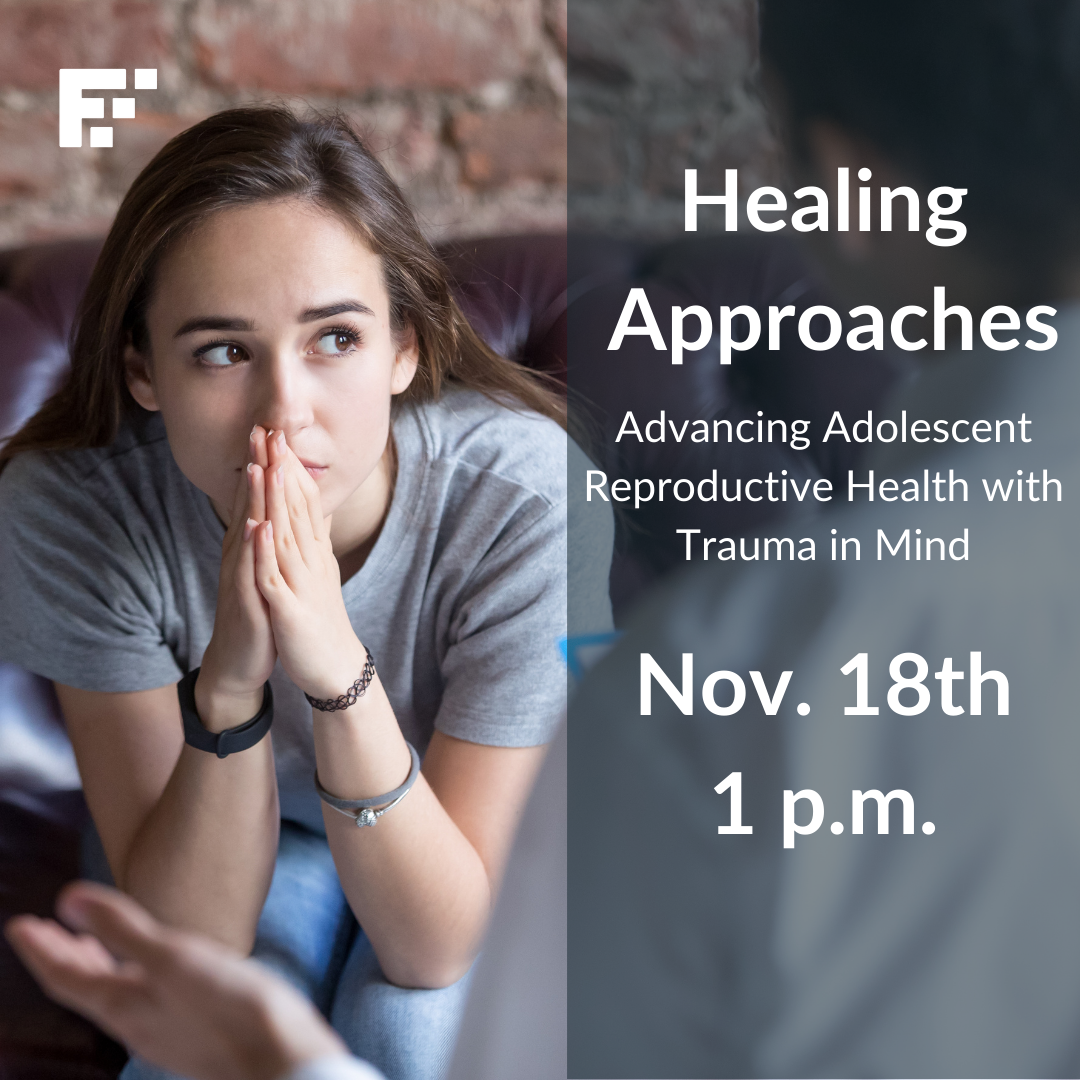 Trauma-informed approaches to sex education and youth outreach are essential in helping youth-serving professionals effectively engage adolescents. When trusted adults are equipped with effective tools to discuss and address sensitive issues, they are more likely to provide young people with age-appropriate, medically accurate and empathetic education and resources. Their referral processes will also be based on evidence and solutions focused.
This training will provide basic information about trauma while focusing on ways youth-serving professionals can effectively promote resilience, healing and take care of themselves in the process.
CEUs Offered:
Objectives:
By the end of the training, participants will be able to:
Define/understand Adverse Childhood Experiences (ACES) and resilience

Reflect on personal concerns and /or biases related to addressing adolescent reproductive health

Create personal check list for self-care

Practice communication that reflects a healing/trauma-informed approaches

Implement as least one healing/ trauma-informed approach to adolescent reproductive health in their work
Target Audience: 
Anyone
Trainer: 
Kim Wicker, LMSW
Partner Engagement Coordinator
Kimberley joined Fact Forward in February 2010 after serving as program director for Newberry County Teen Pregnancy Prevention (a program of the Family Service Center of South Carolina) for six years. Kimberley received a Bachelor of Arts Degree in Psychology from Columbia College (2002) and a Master of Social Work (MSW) from the University of South Carolina (2008). She has remarkable experience in youth outreach programs and advocacy activities for young people. In addition to her educational background, Kimberley has been able to gain professional training in service learning, parenting education, outreach and strategic communications. In her current role, Kimberley is responsible for the development and implementation of a variety of educational strategies that meet the needs of the agency's target markets, with an emphasis on social worker outreach.
Location: 
Online
Cost: 
$60
Registration Deadline:
November 13, 2020
Late registration must be approved by the training department (training@factforward.org) and is subject to a $35 late registration fee. 
---
If you are interested in additional information about this training and the possibility of having one in your area please contact our Training Department at training@factforward.org or 803-771-7700.
Cancellation Policy: Cancellations must be made no later than 72 hours before the date of the training. No-shows forfeit registration costs.
Inclement Weather Policy: Fact Forward follows the City of Columbia for weather closings. We monitor and adjust as necessary. We make all efforts to connect with registrants via email to advise of office closing and delayed starts. In case of cancellation of training due to weather, we will refund registration fees and make all efforts to reschedule in a timely manner.
See all events