Women's History Month Interview with Dr. Edena Guimaraes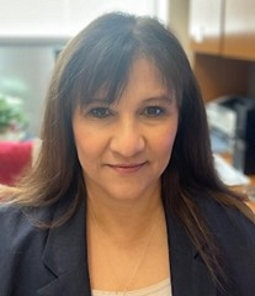 Authored by Mara Russell // Communication Intern at Fact Forward
Interview by Edena Guimaraes, DrPH, MPH, CHES
March is Women's History Month. To honor the occasion, Fact Forward's communication intern, Mara Russell, sat down with Dr. Edena Guimaraes, the Clinical Assistant Professor at the University of South Carolina's Arnold School of Public Health. As a well-respected leader within the healthcare industry, we wanted to get Dr. Guimaraes's thoughts about access to healthcare in South Carolina.
---
Mara- Can you start by giving a little background about yourself?
Dr. Guimaraes- "I'm originally from Brazil, but I've been in the United States since I was 8 years old. I worked in healthcare for about 17 years delivering healthcare services in hospitals. Then I worked at DHEC and started as an HIV health educator and helped develop an HIV plan and was the first in the state to develop one for the Latino population. Later, I became a consultant for all health educators in the state. Then I later came to USC, where I became a researcher, and most of my work initially involved conducting research with Latinos in South Carolina. The majority of my work is with HIV prevention, STI, and teen pregnancy in the Latino population."
Mara- Were there disparities to access that you witnessed? If so, could you explain what they were?
Dr. Guimaraes- "In the early 90s, data showed a fast-growing Latino population in the state where the majority of the systems were not ready for. What I mean by that is the education, law enforcement, and healthcare systems because there weren't too many professionals to serve this population. I was one of the first ones to develop a plan on how to serve the Latinos and got involved with helping to come up with strategies to provide better services. Since the early 2000s, the services have gotten better, but it's not perfect. We see many organizations using language lines for example. But in the rural area, there are still issues where they lack many services."
Mara- Do you believe that accessing healthcare in rural areas or areas of different
ethnic groups in the last couple of years have improved in the state?
Dr. Guimaraes- "It was awful before, but I think it has improved. There are now organizations like PASOs, a nonprofit organization that is now part of the Arnold School of Public Health. Within the nonprofit organization, there are community health workers that work throughout the state. They provide direct services and resources. Before this was created, there was nothing like this. Now that the Latino community knows PASO exists, they provide family first programs and HIV programs. Latinos even contact them for issues outside of what they provide. For example, the organization can provide resources such as a lawyer if they don't have money for bills or divorce problems. There are also lister groups in Greenville and Columbia that consist of bilinguals. They say they have an individual that needs help, and people reach out and provide resources to assist them. We are all coming together and trying to get information out, and we are doing a great job. The problem in the rural areas is with the providers. There is a lot of discrimination in the Latino community."
Mara- In your opinion, how could we help community's gain more access to
 healthcare?
Dr. Guimaraes- "There are standards in organizations and recommendations that providers need to be more culturally competent. This goes beyond someone being from another country; it can be linguistically appropriate for the elderly. To hire people who work for you that are from that culture. Nothing is better than having someone who understands you and speaks your language, but I know it's not always easy to hire. When you hire people like that, for example, bilingual workers need to be paid more. They can speak two languages and work with two populations when they are the only ones who can serve this population. The most important thing is having the provider be ready and making sure they have someone they can refer these people to. Ensure the community has their trust; I wouldn't be promoting something that can cause more problems."