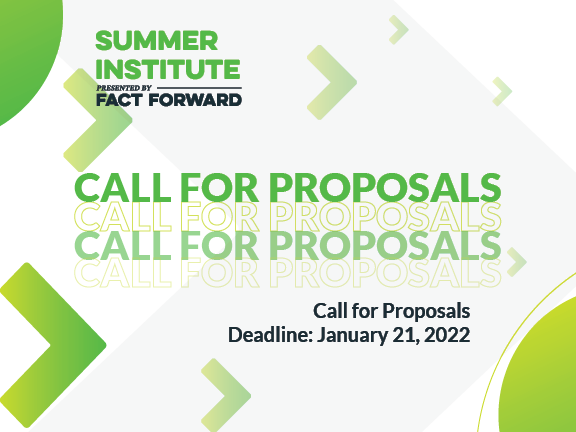 Please read ALL information below before completing your submission form.
Over 300 individuals from communities across South Carolina and the nation attend the Summer Institute each year. Speaking to this unique group is a great opportunity to lead, be involved, and share your expertise in the field of adolescent and reproductive health. 
Submission Details
Deadline for Submission
Submissions are due January 31, 2022
Acceptance Notification
February 2022
Information to consider before submitting application(s)
All submissions will be reviewed and evaluated by the Summer Institute Conference Committee. Proposals that best relate to the conference objectives and topic areas will be selected using the following criteria:
Thoroughness of the subject matter and proposal
Quality of learning objectives
Level of interactivity and method of diverse teaching styles
Quality of takeaway tools/strategies offered
Appeal to a diverse and broad spectrum of attendees
Timeliness of proposal submission
If the presentation has more than one presenter, you must identify the lead presenter. All correspondence for your presentation (if chosen) will be communicated to the lead presenter. It is the lead presenter's responsibility to disseminate information to any co-presenters.
Proposal must include:
PLEASE NOTE: Your application will not be reviewed for consideration until all applicable attachments have been received.
All proposals will be accepted/declined by the end of February 2022. Acceptance of a proposal is based on the content and the presenters named at the time of submission. Any changes to content or speakers must be conveyed to summerinstitute@factforward.org in advance. Fact Forward reserves the right to reassess the suitability, if changes are made.
Presenter Information
Please be aware of this important information regarding presenters at Summer Institute. For questions, contact summerinstitute@factforward.org. 
All presenters must register at the discounted rate of $100.
Presenters are responsible for their own travel, accommodations, parking, handouts and other costs.
All proposals will be considered with a priority given to proposals that best fit our 2022 theme. 
Presenters may not sell any products or services during their presentation. Presentations should have an educational goal and should not include any promotional or marketing material. Please contact Fact Forward for vendor/exhibitor information if interested in product sales.
Use brevity in the submission of your proposal; presenters will need to prepare for approximately 45 participants per workshop