Genie Fogle of Orangeburg County Receives the Murray L. Vincent Outstanding Prevention Professional Award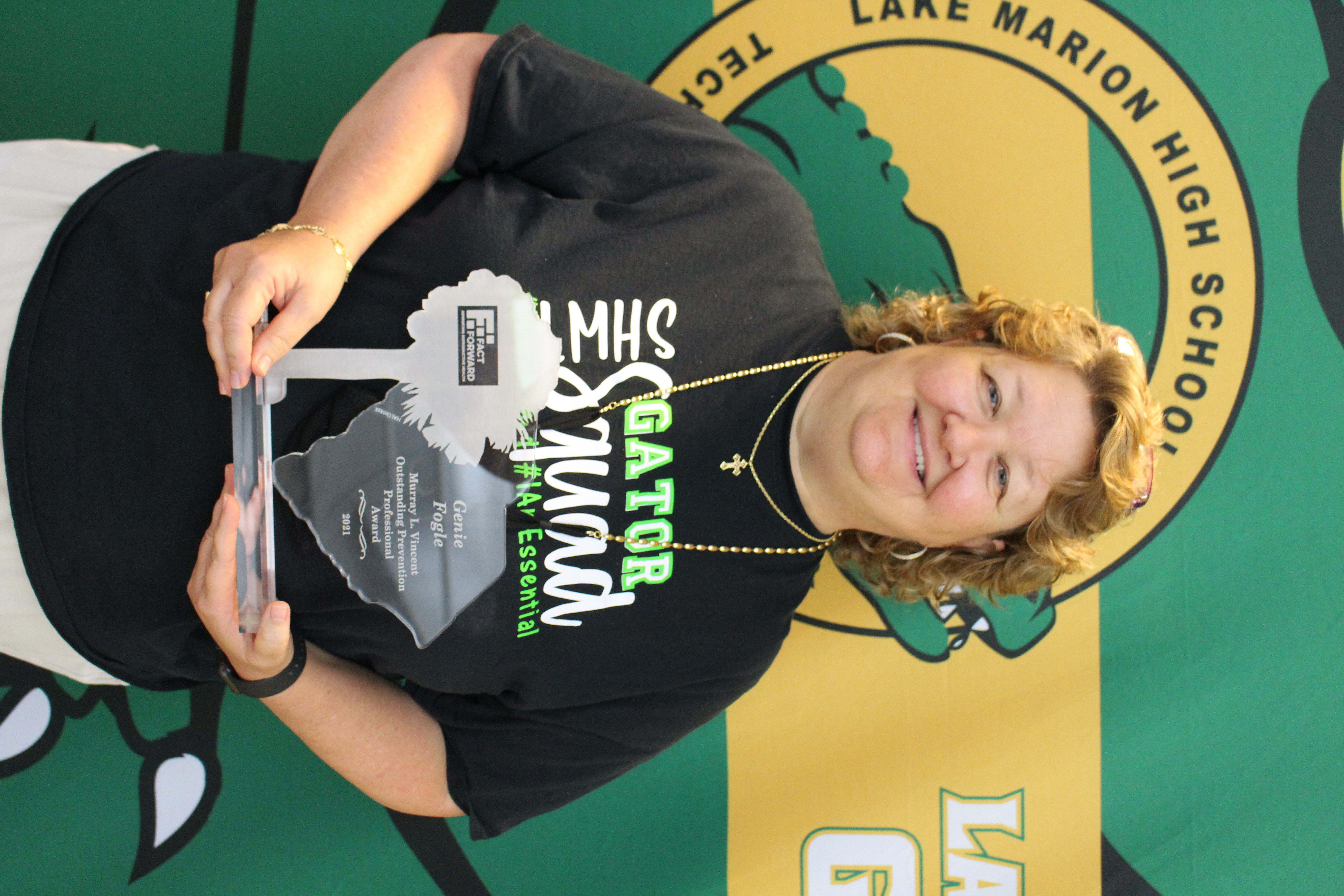 Genie Fogle has been awarded the 2021 Murray L. Vincent Outstanding Prevention Professional award. Fogle will be recognized alongside the 2020 recipient at Fact Forward's Virtual Conference, Summer Institute 2021.  
Fogle is a dedicated educator, mentor, and former basketball and volleyball coach for over 30 years. She has a true passion for what she does, so much that she has retired, but decided not to leave the classroom. She has successfully provided evidence-based health education with fidelity to 669 students since December of 2016. In addition, 601 of those students completed 75% or above of the evidence-based curriculum, attesting to Fogle's ability to keep students engaged and wanting to attend her class.  
Transitioning to virtual learning did not deter Fogle from implementing the evidence-based curriculum. Once she learned her classes would go fully virtual, she reached out to Fact Forward for resources on conducting some of the activities and lessons virtually, while still implementing with fidelity. This act shows Fogle's commitment to making sure her students are equipped with reproductive health education before they leave her classroom. 
The Murray L. Vincent Outstanding Prevention Professional Award is the highest and most distinguished award given by Fact Forward.  In honor of Dr. Murray Vincent, the award recognizes an individual who has significantly impacted the prevention of adolescent pregnancy in South Carolina while exemplifying the characteristics of the award's namesake.  
Fogle embodies all the characteristics exemplified by Dr. Vincent. The one that endears her to peers and her students is her passion for and her dedication to the youth of Orangeburg County, ensuring that they receive the appropriate education that allows them to make informed and educated choices. According to her nominator, Fact Forward's Health Services Manager and a former student of Fogle's, Brittany Wearing, "Genie is one of those educators that students LOVE. She consistently gets stellar feedback from her students about what they are learning. Beyond that, she provides welcoming and shame-free reproductive health education. She has a history of making a difference in the lives of young people through health and physical education for the past 30 years. Genie is a truly an advocate and champion for adolescent health education." 
For additional information about the Murray L. Vincent Outstanding Prevention Professional Award or Summer Institute, visit https://www.factforward.org/education-and-training/conferences/summer-institute.